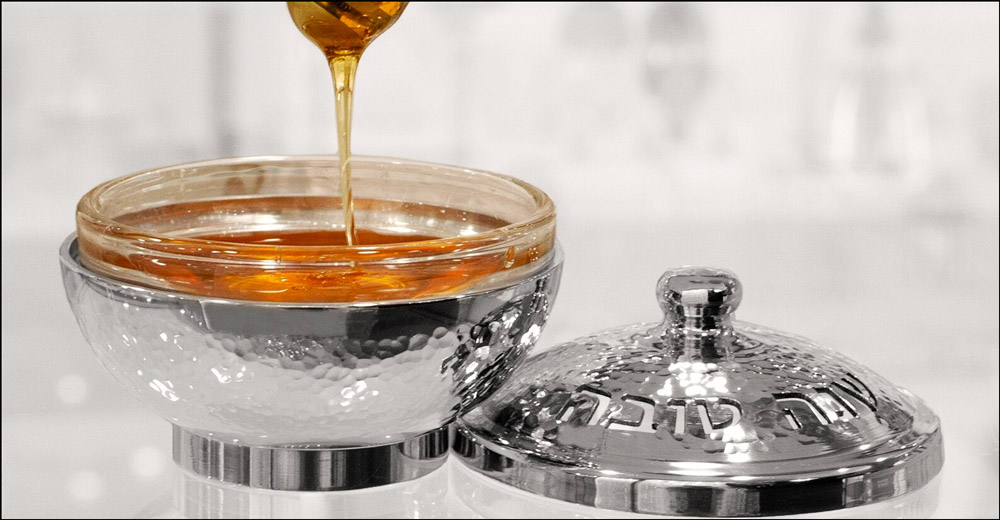 Judaica Honey Dishes: The Essence of Rosh Hashanah 🍯✨
As the High Holidays approach, a Judaica dishes for honey becomes more than a table accessory—it's a symbol of hope for a sweet new year. Here's why every home should consider one:
Quick Summary
✅ Cultural Significance: An essential part of Jewish tradition, these dishes hold the honey that sweetens the age-old ritual of dipping apples during Rosh Hashanah.
✅ Artistic Craftsmanship: Judaica honey dishes come in various designs, from classic sterling silver to modern glass, each adding beauty and meaning to your festive decor.
✅ Heirloom Quality: These dishes are not just for one-time use; they are crafted to be passed down through generations, making them a worthwhile investment.
Embrace the sweetness of tradition and find your perfect Judaica dishes for honey today—because every drop of honey deserves a place of honor on your holiday table. 🌟
Embracing Sweetness with Judaica Honey Dishes: A Taste of Tradition 🍯✡️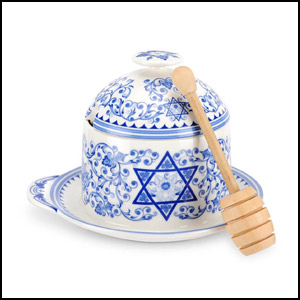 In the tapestry of Jewish customs, honey is more than a mere sweetener—it's a symbol of hope and renewal. As families gather around the Rosh Hashanah table, a Judaica honey dish takes center stage, holding the golden nectar that will sweeten pieces of apple and challah, whispering wishes for a sweet year ahead. The presence of these specially crafted dishes is a testament to the age-old adage, "May your year be as sweet as honey." Embracing this sentiment, each honey dish is not just a receptacle for honey but a vessel of tradition, carrying deep cultural resonance and the promise of tomorrow's joys.
The Story Behind the Dish: Roots in Ritual 📜
Tracing back to ancient times, the honey dish has been a humble yet pivotal character in Jewish rituals. It emerged from the necessity of marking the Jewish New Year, Rosh Hashanah, with symbols of sweetness, signifying the community's aspirations for a prosperous future.
During Rosh Hashanah, the honey dish becomes more than an object; it is a central participant in the ceremonial blessing, "Shana Tova Umetuka," which voices the hope for a "Good and Sweet Year." The act of dipping apples into honey, observed at this time, is incomplete without the honey dish, which, filled to the brim with golden hues, graces the festive tables as a beacon of the year's sweet intentions.
Symbolism and Significance: Honey in Judaism 🔯
Honey drips with meanings in Jewish tradition. It epitomizes nature's raw purity and the spiritual ideal of a life enriched with learning and wisdom. Just as bees extract sweetness from flowers, so are followers encouraged to seek the sweetness in life's experiences.
A Judaica honey dish is not merely for serving; it's a symbol itself, crafted to embody the Jewish ethos. It holds not just honey but the collective hopes for a year infused with goodness and sweetness. Its presence on the Rosh Hashanah table is a tangible reminder of the community's aspirations to maintain faith, tradition, and the pursuit of a life that's as enriching as the honey it contains.
Our Selection 12 Best Jewish Honey Dishes

| Image | Product | Link |
| --- | --- | --- |
| | Judaica Rosh Hashanah Honey Dish. 4 Piece Silver Plated Honey Dish, 4.5" x 3.5". | |
| | Silver plated Adorn Rosh Hashana Honey Dish, Spoon & saucer | |
| | Yair Emanuel Aluminum Pomegranate Honey Dish in Red | |
| | Enamel on Cast Aluminum Honey Dish with Spoon Serving Set Pomegranate Shape (Silver Grey) | |
| | Multicolor Resin Artisanal Lime Honey Dish | |
| | Pomegranate Shaped Honey Dish for Rosh Hashanah, Nickel Plated | |
| | Beautiful Exquisite Honey Dish with Tulip Flowers and Colorful Beads Design | |
| | Crystal Rosh Hashanah Honey Dish and Laser Cut Plaque with Pomegranate Motif, Octagon | |
| | Crystal Elegant Honey Dish 7cm(2.75") diameter Open bowl, no lid. Jewish holidays Rosh hashana Art judaica | |
| | Jerusalem Honey Dish By Yair Emanuel Vtrhp1 | |
| | Rosh Hashanah Honey Dish - Glass Plate With Pomegranate Design and Wooden Dipper | |
1# Alef Judaica Rosh Hashanah Jewish Honey Dishes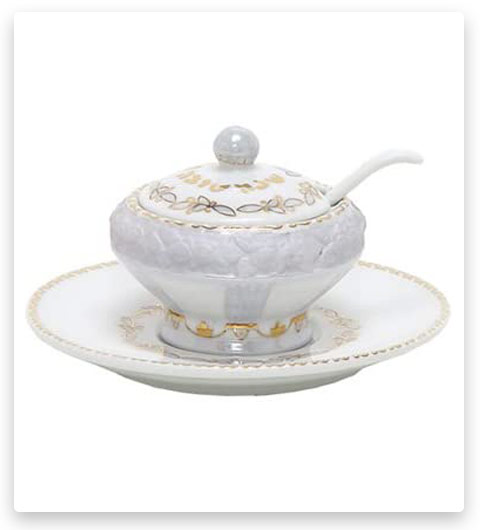 Experience a blend of tradition and elegance with the Alef Judaica Rosh Hashanah Jewish Honey Dishes. Crafted to perfection, these dishes offer a modern take on the age-old tradition of welcoming the Jewish New Year.
Made from high-quality materials, each dish is designed to be a centerpiece for your holiday table, promising to be not just a holder for honey but a conversation starter and a cherished heirloom. Perfect for your family's celebration or as a thoughtful gift, these honey dishes help ensure a sweet start to the year.
2# Quality Judaica Modern Honey Dish of Pearl Inlay for Rosh Hashanah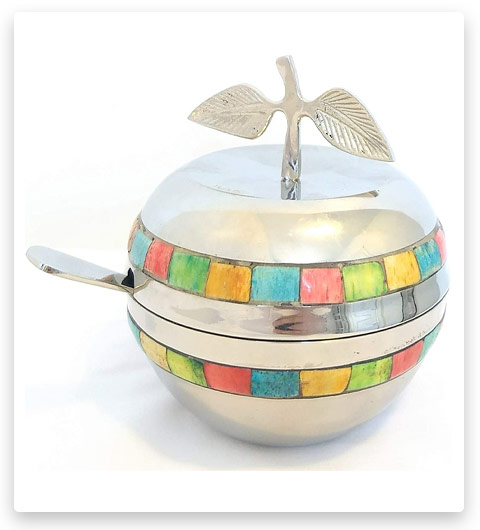 Celebrate Rosh Hashanah with the Quality Judaica Modern Honey Dish, exquisitely inlaid with pearls for a contemporary yet classic look. This dish is designed for those who appreciate modern aesthetics without sacrificing the warmth of tradition.
The pearl inlay adds a touch of luxury, making it a standout piece for the holiday table. Durable and functional, this honey dish is an ideal vessel for your New Year's celebrations, blending ceremonial significance with chic design to create new memories and uphold time-honored traditions. Perfect for personal use or as a sophisticated gift.
3# Judaica Rosh Hashanah Jewish Honey Dish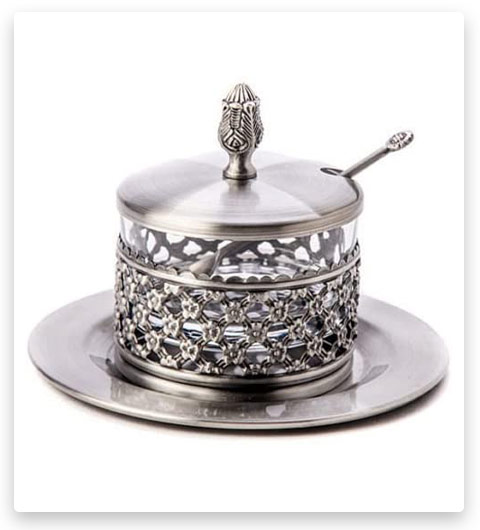 This Judaica Rosh Hashanah Honey Dish is a harmonious fusion of tradition and beauty, essential for celebrating the Jewish New Year. Expertly crafted, it is designed to hold honey, symbolizing the wish for a sweet year ahead. Its elegant design complements any holiday table setting while honoring the time-honored tradition of dipping apples into honey.
Whether used for personal reflection or as part of family festivities, this honey dish is not only a functional item for your holiday but also a meaningful symbol of heritage and hope for prosperity, health, and joy in the year to come. Perfect for gifting or to continue your family's legacy.
4# Judaica Rosh Hashanah Honey Dish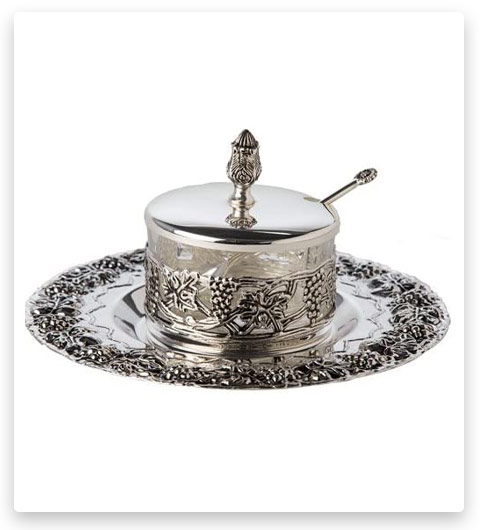 5# MASORET Rosh Hashana Glass Honey Dish Set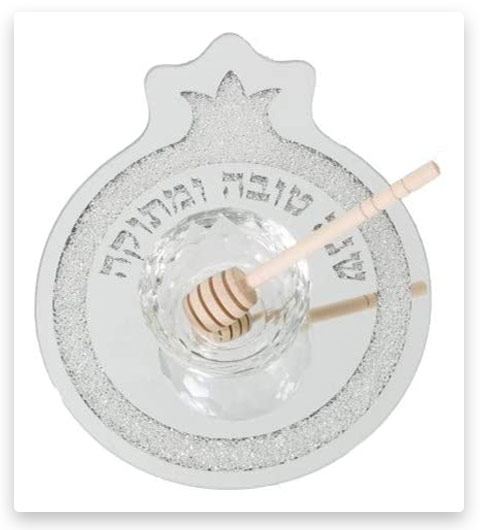 The MASORET Rosh Hashana Glass Honey Dish Set is a contemporary celebration of the Jewish New Year. Crafted from premium glass, this set features a beautifully designed dish accompanied by a matching spoon, both tailored to serve honey during Rosh Hashanah festivities.
The transparent design not only adds a touch of modern elegance to your table but also allows the natural beauty of the honey to shine through, symbolizing clarity and purity for the year ahead. Durable and easy to clean, this set is perfect for creating a focal point for your holiday gatherings and is an excellent gift for friends and family to usher in a sweet and prosperous new year.
6# Judaica Rosh Hashanah Honey Dish Silver Plated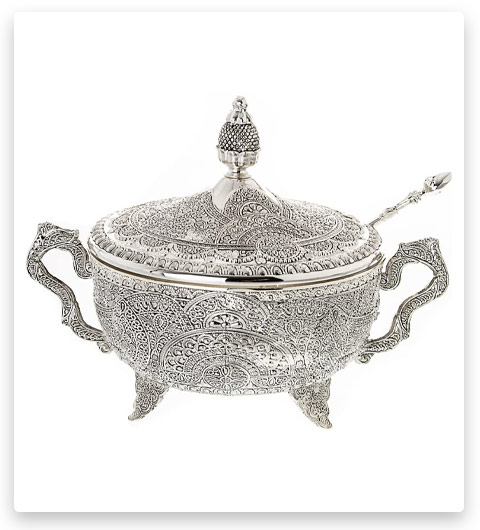 The Judaica Rosh Hashanah Honey Dish is an exquisite silver-plated piece that combines timeless elegance with the celebratory spirit of the Jewish New Year. This beautifully crafted dish is designed to hold honey, an essential element in Rosh Hashanah rituals symbolizing the hope for a sweet year ahead. Its gleaming silver plating and classic design add a touch of sophistication to your holiday table.
It is both a functional item for serving honey during the festivities and a meaningful symbol of renewal and tradition. This dish makes for a thoughtful gift or a treasured addition to your own Judaica collection, promising to be a cherished component of your family's Rosh Hashanah celebrations for years to come.
7# CopperBull Swarovski Crystal Coated Brass Sugar Candy Bowl Serving Dish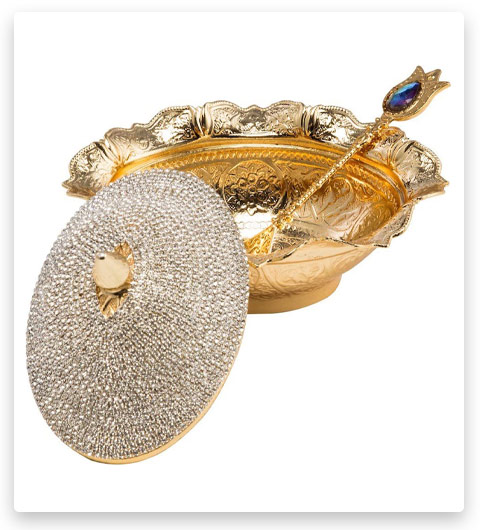 The CopperBull Swarovski Crystal Coated Brass Sugar Candy Bowl is a luxurious addition to any serving collection. Adorned with sparkling Swarovski crystals, this brass dish exudes opulence and craftsmanship. Its durable construction ensures longevity, while the intricate crystal coating presents a dazzling spectacle, perfect for impressing guests.
Designed not just for sugar or candy, it can serve as a sophisticated centerpiece or a decorative item in any setting. This bowl is a blend of functionality and artistry, making it an ideal gift or an elegant statement piece for your own home.
8# Art Judaica Stainless Steel and Glass Honey Dish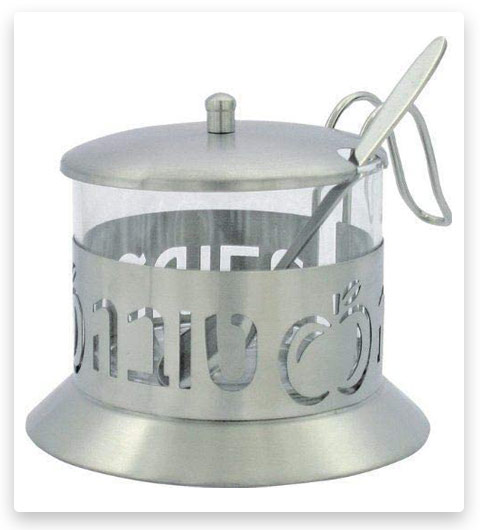 The Art Judaica Honey Dish is an elegant and contemporary serving piece, ideal for the Rosh Hashanah holiday and beyond. Made from high-quality stainless steel and glass, it is designed for durability and ease of use. The clear glass bowl sits atop a sleek stainless steel stand, providing a modern look while allowing the color of the honey to be part of the visual appeal.
This dish comes complete with a special spoon, ensuring a neat serving experience. Its simple yet sophisticated design ensures it will fit seamlessly into any table setting, making it a versatile and practical addition to your Judaica collection or a meaningful gift for any occasion.
9# Yair Emanuel Honey Dish Jar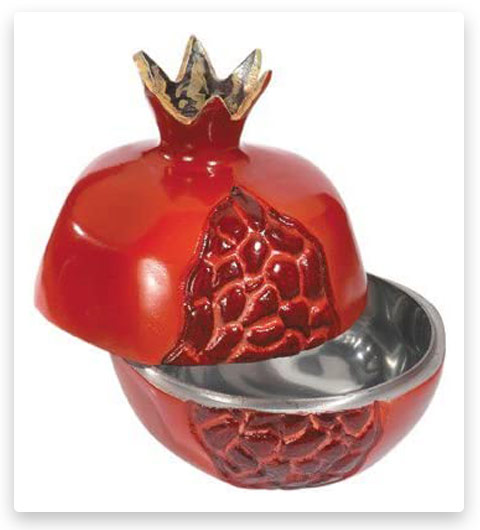 The Yair Emanuel Honey Dish Jar is a vibrant and artful addition to your Rosh Hashanah celebration. Crafted with attention to detail, this dish features a rich, colorful design characteristic of Yair Emanuel's signature style, bringing a modern twist to traditional Judaica.
The jar is made with a combination of materials, often including metal or wood with a glass insert, ensuring the honey is contained stylishly and hygienically. Accompanied by a matching spoon, this honey dish is not just a functional item but also a piece of art that celebrates the joy and sweetness of the holiday. It's a delightful gift or a beautiful new tradition for your own holiday table.
10# Quality Judaica Apple Shaped Honey Dish and Spoon for Rosh Hashanah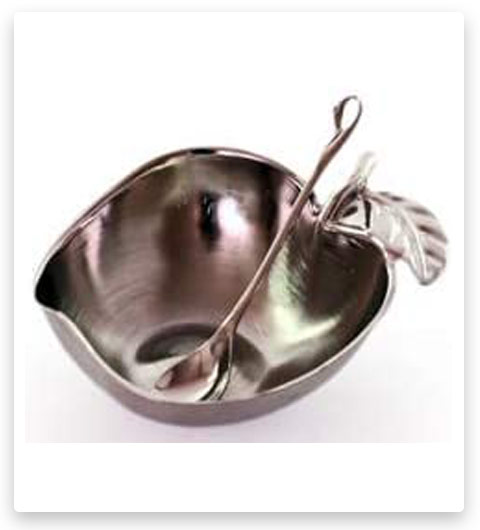 The Quality Judaica Apple Shaped Honey Dish is a charming and thematic serving piece crafted especially for Rosh Hashanah. Shaped like an apple, it symbolically represents the holiday tradition of dipping apples into honey for a sweet new year. This dish is accompanied by a matching spoon, perfect for serving honey with elegance.
Made from durable materials, it is designed for both beauty and function, ensuring it can be a part of your holiday celebrations for many years. This honey dish is not only practical for your festive needs but also serves as a decorative element that captures the essence of the holiday. It makes for a thoughtful gift or a delightful update to your own festive tableware.
11# Quality Judaica Gold Plated Apple Shaped Honey Dish For Rosh Hashanah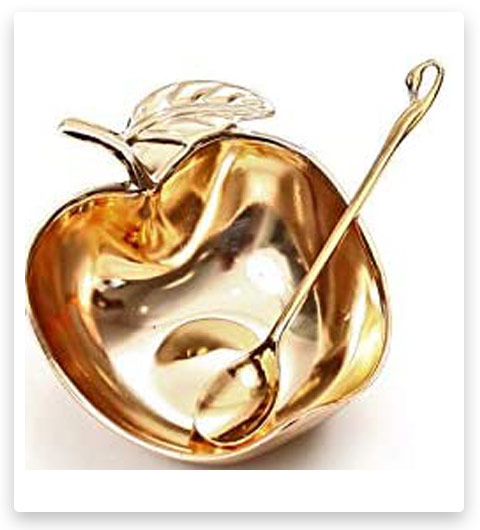 The Quality Judaica Gold Plated Apple Shaped Honey Dish is a festive and elegant piece designed for celebrating Rosh Hashanah with traditional flair. This gold-plated dish, crafted in the shape of an apple, is both symbolic and practical, offering a stunning way to present honey during the holiday.
Its lustrous finish and detailed design add a touch of luxury to the new year festivities, while the accompanying spoon makes serving easy and mess-free. Durable and crafted to last, this honey dish is a perfect blend of functionality and celebratory design, ideal for creating memorable holiday moments or gifting to loved ones to enhance their festive table.
12# Aviv Judaica Rosh Hashanah Honey Dish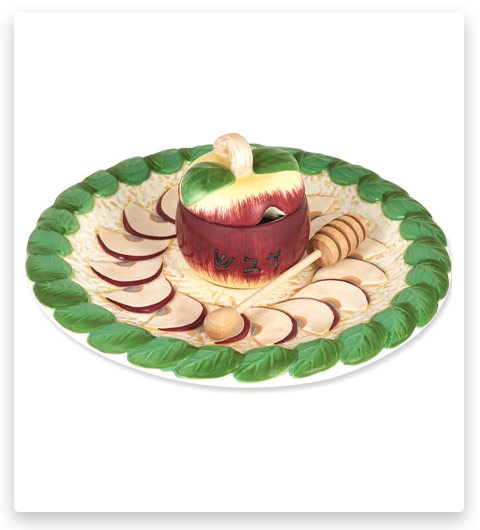 The Aviv Judaica Rosh Hashanah Honey Dish brings timeless elegance to your New Year celebration. Expertly crafted to embody the spirit of the holiday, this dish is specifically designed for serving honey during Rosh Hashanah. It features a classic design that complements any table setting, providing a touch of beauty and tradition.
Made with high-quality materials, it ensures durability and longevity. This honey dish is not just a practical piece for your festive occasions but also a meaningful symbol of the sweetness hoped for in the coming year. It's an excellent choice for those looking to honor tradition with a stylish and functional piece, and it makes a thoughtful gift for friends and family.
Choosing Your Own: Personal Touch 🛍️
When selecting a honey dish, consider craftsmanship that stands the test of time, materials that endure, and a style that resonates with your personal story.
Opt for a dish that not only appeals to the eye but also promises longevity. A well-made honey dish can be the future heirloom of your family.
Choose a dish that feels like an extension of your home's character, one that will be filled with more than honey, but also with the essence of your family's traditions.
Design and Craftsmanship: The Artisan's Touch 🎨
Each Judaica honey dish is a small masterpiece, reflecting the skill and devotion of its creator. From the delicate engraving to the graceful curves, the dish is a product of meticulous artisanship.
These dishes span a vast range of designs. The classic dishes boast ornate motifs and intricate details, reminiscent of ancient craftsmanship. Contemporary versions offer sleek lines and minimalist elegance, catering to modern aesthetics while retaining their ceremonial significance.
Materials Matter: Silver, Ceramic, and Glass 🛠️
The choice of material for a Judaica honey dish speaks volumes. Silver, with its timeless sheen, evokes tradition and durability. Ceramic offers an earthy warmth, often hand-painted with scenes that tell stories or celebrate history. Glass brings a contemporary clarity, symbolizing openness to the future.
The materials are not just mediums but messengers of cultural values. Silver dishes are heirlooms, embodying the continuity of family lineage. Ceramic pieces, with their artisanal charm, reflect the hands-on joy of the holidays. Glass, with its modern edge, suggests a forward-looking faith and the bright promise of tomorrow.
The Making of a Masterpiece: Crafting Steps Unfolded 🏺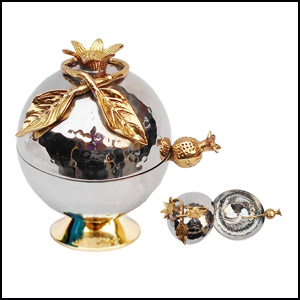 Design Sketching: The artisan begins with a vision, translating ideas into detailed sketches.
Material Selection: Whether it's lustrous silver, earth-toned ceramic, or crystal-clear glass, each material is chosen for its quality and symbolic weight.
Shaping: Tools are employed to mold the chosen material into the initial form of the honey dish.
Detailing: With precision, artists add unique elements – etchings, paintings, or engravings.
Finishing Touches: A final polish or glaze ensures the dish isn't just functional but a work of art.
The hands behind these dishes are steeped in tradition, often coming from generations of craftsmen. They use age-old techniques, like silver smithing or glassblowing, while also embracing new methods to keep the legacy alive in a modern world.
Function Meets Beauty 🌿
A Judaica honey dish serves more than a ritual; it's designed for ease of use. Stable bases prevent tipping, while wide openings allow for easy dipping, ensuring a spill-free celebration.
Ingenious designers merge form with function. Some dishes feature built-in honeycombs or dipper holders, while others present detachable parts for simple cleaning. All crafted to enrich the holiday with both beauty and practicality.
Celebrating Diversity: Local Flavors, Universal Appeal ✨
From the cobblestone streets of Jerusalem to the bustling markets of New York, Judaica honey dishes reflect the global Jewish diaspora. Intricate Moroccan patterns, sleek European lines, and vibrant Israeli motifs capture a world of tradition.
Each dish tells a story of its origins, infusing local art with universal Jewish themes. Whether it's an Argentinian silver dish etched with native flowers or an American glass dish with abstract forms, they all celebrate the diversity and unity of Jewish culture.
From Artisan to Heirloom: Emotional Resonance 🧬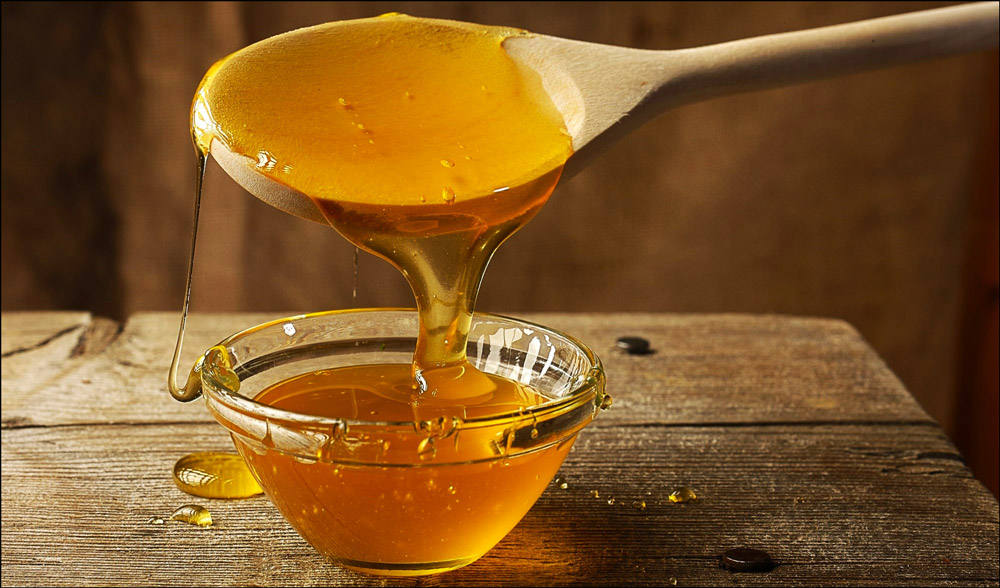 A Judaica honey dish begins its life in the skilled hands of an artisan, only to become part of a family's history. It transitions from a beautifully crafted object to a cherished heirloom, carrying stories and memories from one generation to the next.
Beyond its physical beauty, an heirloom honey dish holds the laughter, tears, and celebrations of countless family gatherings. It's a silent witness to yearly blessings, a holder of the collective spirit and love that pass through its use.
Conclusion: Sweet Beginnings 🌈
Embracing a Judaica honey dish is to welcome a year of promise with grace and sweetness. It's a beautiful vessel, ripe with the potential of new memories and time-honored customs.
As the new year dawns, the honey dish invites us to renew our bonds, indulge in the sweetness of life, and cherish the rituals that bind us. It's more than a tradition; it's a celebration of continuity and fresh starts.
Seek out your ideal Judaica honey dish from local artisans, specialized online boutiques, or community craft fairs to find a piece that speaks to you.