Discover the Essence of the Jewish Kippah 🕍
Welcome to the world of Kippahs, a vital symbol in Jewish tradition!
What is a Kippah? 🧐
A Kippah, also known as a Yarmulke, is a small cap worn by Jewish individuals as a sign of respect and recognition of a higher power above them. It's not just a cap; it's a powerful symbol of faith, tradition, and identity.
Quick Summary
Why is it Needed? 🤔
✅ Respect and Tradition: Wearing a Kippah is a way to show reverence for God, especially during prayer, in a synagogue, or at religious events.
✅ Cultural Identity: It represents a connection to Jewish heritage and community.
✅ Spiritual Reminder: Acts as a constant reminder of one's faith and spiritual commitments.
Why Should You Buy a Kippah? 🛒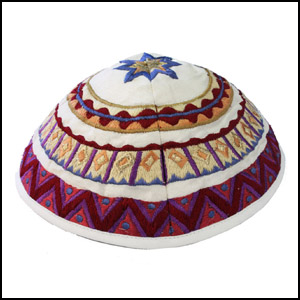 ☑️ Embrace Tradition: Connect with centuries-old customs.
☑️ Express Identity: Showcase your unique religious and cultural identity.
☑️ Variety of Choices: From classic designs to modern styles, there's a Kippah for everyone.
☑️ Gift of Meaning: A thoughtful and significant present for friends and family.
Jewish Kippahs: A Tapestry of Tradition and Identity 🕍✡️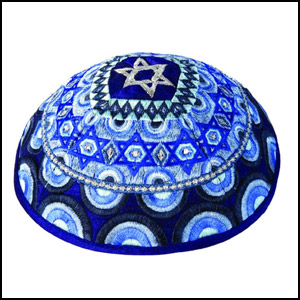 The Kippah, a small yet significant piece of cloth, carries a profound meaning in Jewish life and culture. This traditional head covering, also known as a Yarmulke, serves as much more than a mere accessory. It is a symbol deeply entrenched in Jewish history and spirituality.
A Kippah is typically a round cap, often made from various materials like cotton, silk, or velvet, and worn primarily by Jewish men. Some may adorn it at all times, while others choose to wear it during prayer, religious ceremonies, or in the synagogue.
In Jewish culture, the Kippah is not just a symbol of religious observance; it is a public declaration of faith. Wearing a Kippah is a gesture of respect towards a higher power, a physical reminder of the presence of God. It acts as a constant cue to live a life aligned with Jewish values and ethics.
This small cap, varying in colors and designs, connects the wearer to an ancient tradition, rooting them in their heritage while also reflecting their personal style and expression. The Kippah's presence in Jewish life is a testament to the enduring nature of Jewish traditions and the constant adaptation of these traditions to fit contemporary life.
Origins of the Kippah in Jewish History 📚
The roots of the Kippah trace back to ancient times in Jewish history. Originally, the practice of covering one's head was a sign of reverence, particularly during prayer and sacred moments. The Talmud, a central text in Judaism, contains references to the custom of head covering as a mark of humility before God. This custom gradually evolved, becoming a widespread practice among Jewish men, symbolizing their acknowledgment of something greater above them.
Evolution Over Centuries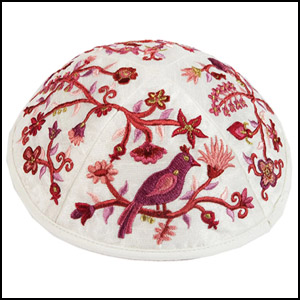 Over the centuries, the Kippah has seen a remarkable evolution, both in form and in cultural significance. In the Middle Ages, it was common for Jewish men in certain regions to cover their heads most of the time, distinguishing them from their non-Jewish neighbors. This distinction was not just a matter of faith but also a response to societal norms and, at times, legal requirements imposed on Jewish communities.
As Jews migrated across different lands, the styles and materials of the Kippah evolved. In Islamic countries, the Kippah became larger and resembled a turban, while in European countries, it was smaller and more discreet. The 20th century saw a significant shift with the advent of Zionism and the establishment of Israel. The Kippah became a symbol of not just religious observance but also of national identity and pride.
Today, the Kippah comes in various forms, from the traditional black velvet to modern and colorful designs, reflecting both the diversity within Judaism and the individuality of its wearers. Its evolution is not just a tale of a religious garment but a mirror reflecting the dynamic journey of Jewish history and culture.
Religious and Spiritual Meanings 🌟
The Kippah is steeped in religious and spiritual symbolism in Judaism. Its primary purpose is to serve as a physical reminder of God's constant presence. This small cap is a symbol of humility, acknowledging the divine power above. It's a gesture that elevates everyday actions into acts of respect and mindfulness towards Jewish law and spirituality.
Wearing the Kippah also signifies a commitment to Jewish laws and traditions. It acts as a subtle yet powerful reminder to live a life adhering to Jewish values and ethics.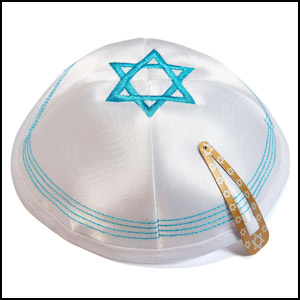 The Kippah in Different Jewish Denominations
The interpretation and use of the Kippah vary significantly across different Jewish denominations, reflecting the diversity within Judaism itself. In Orthodox communities, the Kippah is worn at all times by men as a sign of their ongoing devotion and recognition of God. It is seen as a fundamental aspect of their daily attire, integral to their religious identity.
In Conservative and Reform communities, the approach to the Kippah can be more flexible. Men and, increasingly, women in these denominations may choose to wear the Kippah during prayer, religious services, or specific rituals, using it as a tool to enhance their spiritual connection during these moments.
Additionally, some progressive Jewish groups view the Kippah not only as a religious symbol but also as a marker of cultural identity, a way to connect with their heritage even if they are not strictly observant in other aspects of religious law.
Our Top Judaica Kippahs Choice
1# EMANUEL Yair Blue Magen David Star Embroidered Kippah Yamaka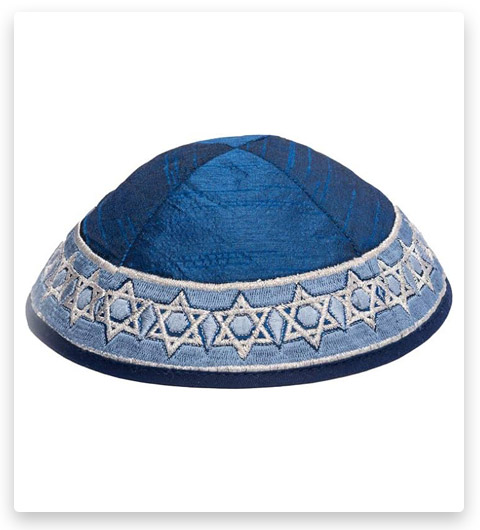 The EMANUEL Yair Blue Magen David Star Embroidered Kippah, also known as a Yamaka, is a beautifully crafted head covering, perfect for those seeking to express their Jewish faith with elegance and style. This Kippah stands out with its rich blue fabric, meticulously embroidered with the iconic Magen David (Star of David) symbol, representing Jewish identity and heritage. Its high-quality material ensures both comfort and durability, making it suitable for regular use. Ideal for religious ceremonies, daily wear, or special occasions, this Kippah is a meaningful blend of tradition and modern design.
2# Yair Emanuel Multi Color Embroidered Yarmulka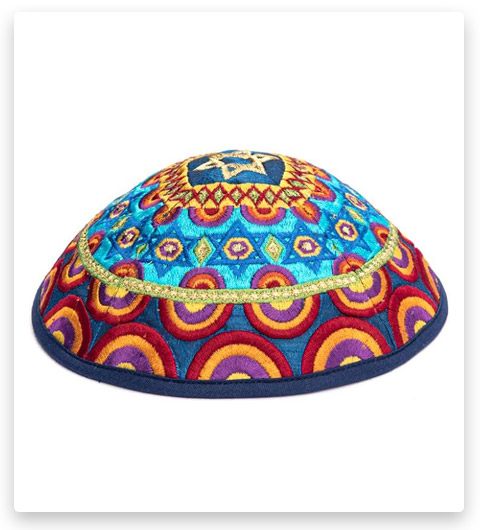 The Yair Emanuel Multi Color Embroidered Yarmulka is a vibrant and artistically designed head covering, ideal for those who appreciate a fusion of tradition and contemporary art. This Yarmulka features a rich tapestry of multicolored embroidery, showcasing an intricate and eye-catching pattern that adds a unique flair to the traditional Jewish headwear. Crafted with high-quality fabric, it ensures comfort for all-day wear while maintaining its elegant shape. Perfect for various Jewish occasions or daily use, this Yarmulka is a stylish expression of faith and heritage.
3# Aeiniweraabbcc Kippah Yarmulkes Blue Flowers and Birds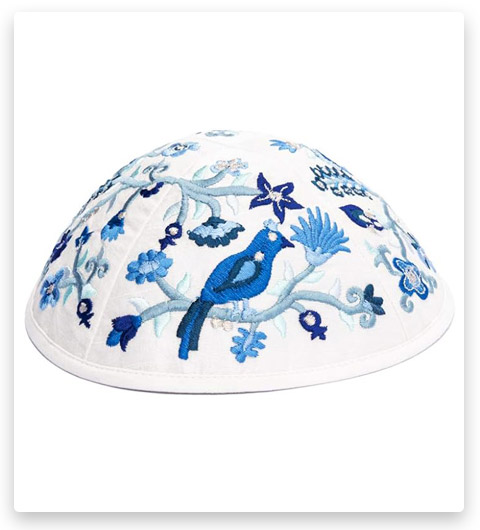 The Aeiniweraabbcc Kippah Yarmulkes with Blue Flowers and Birds design is a beautifully crafted head covering that combines traditional Jewish symbolism with a touch of nature-inspired artistry. This Kippah features an elegant design of blue flowers and birds, set against a complementary background, creating a serene and visually appealing aesthetic. Made from quality materials, it offers both comfort and durability, making it suitable for regular wear during religious services, special occasions, or everyday use. This Kippah is an excellent choice for those seeking a blend of traditional religious significance and contemporary, artistic style.
4# Yair Emanuel Embroidered Kippah Jerusalem Design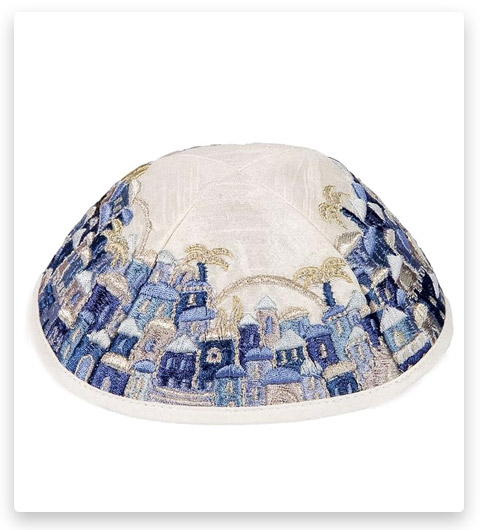 The Yair Emanuel Embroidered Kippah with a Jerusalem Design is a beautifully crafted piece of Judaica, perfect for those who hold the holy city close to their heart. This Kippah is adorned with an intricate embroidered depiction of Jerusalem's iconic skyline, capturing the essence of the city's spiritual and historical significance.
Made from high-quality fabric, it ensures comfort and durability, suitable for both everyday wear and special religious occasions. The blend of traditional craftsmanship with the symbolic Jerusalem design makes this Kippah a meaningful and stylish choice for expressing one's faith and connection to Jewish heritage.
5# JL Kippha's Gold Leather Kippah Silver Yarmulke Kippa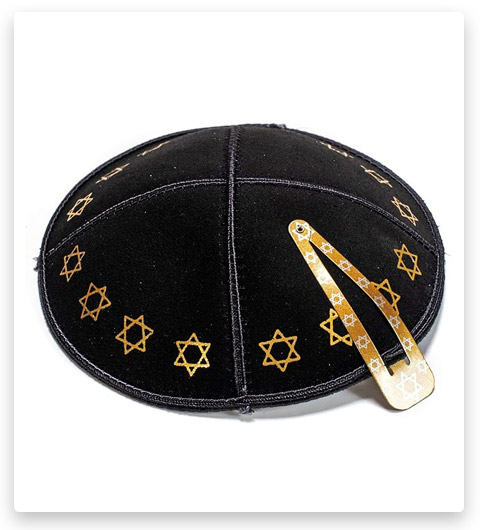 The JL Kippha's Gold Leather Kippah with Silver Yarmulke Kippa is an exquisite and elegant head covering, blending traditional Jewish values with a modern and luxurious aesthetic. This Kippah is crafted from premium gold leather, giving it a unique and upscale appearance, further enhanced by the tasteful addition of silver accents. The combination of gold and silver creates a sophisticated look, making it perfect for special occasions, religious ceremonies, or as a standout piece in any Judaica collection. Durable and comfortable for wear, this Kippah is a splendid choice for those seeking a fusion of tradition and contemporary style in their religious attire.
6# Yair Emanuel Kippah Embroidered Magen David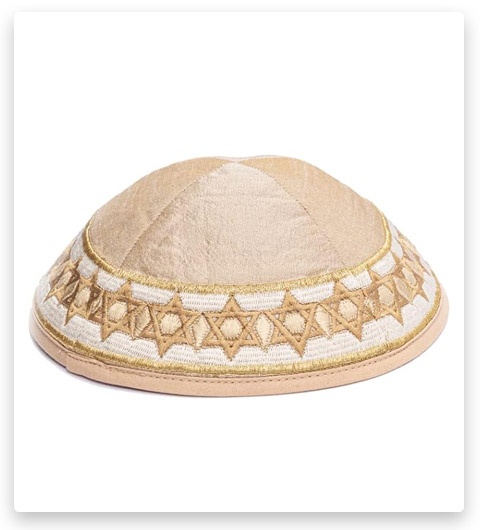 The Yair Emanuel Kippah Embroidered Magen David is a beautifully designed Jewish head covering, merging traditional symbolism with elegant craftsmanship. This Kippah is adorned with an intricately embroidered Magen David (Star of David), a powerful symbol of Jewish identity and heritage. Crafted from high-quality fabric, it offers both comfort and durability, making it suitable for daily wear or special religious occasions. The combination of skilled embroidery and meaningful design makes this Kippah a thoughtful and stylish choice for expressing one's faith and connection to Jewish tradition.
7# EMANUEL Yair Blue Magen Mosaic Design Kippah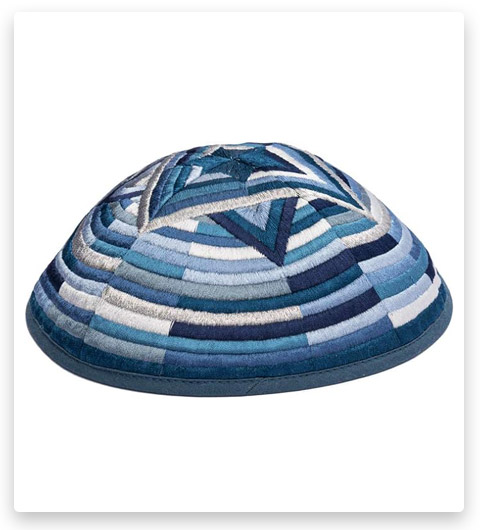 The EMANUEL Yair Blue Magen Mosaic Design Kippah is a striking and artistically crafted head covering that beautifully represents Jewish tradition and art. This Kippah features a unique mosaic design, centered around the Magen David (Star of David) symbol, set against a rich blue background. The intricate mosaic pattern, combined with the deep blue hue, creates a visually stunning piece, symbolizing both faith and cultural heritage. Made from quality materials, it ensures comfort and longevity, making it ideal for both everyday use and special religious events. This Kippah is perfect for those seeking a meaningful and aesthetically pleasing way to express their Jewish identity.
8# Yair Emanuel Star of David Shades of Brown Gold Embroidered Kippah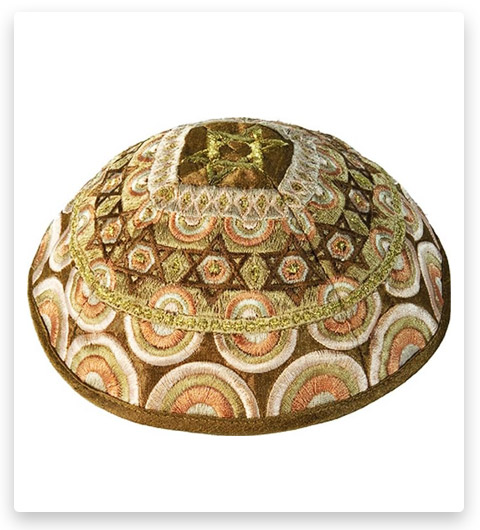 The Yair Emanuel Star of David Shades of Brown Gold Embroidered Kippah is an elegant and sophisticated piece of Judaica. This Kippah showcases a stunning Star of David design, beautifully embroidered in varying shades of brown and gold, creating a rich and warm aesthetic. The intricate embroidery adds depth and texture, making it a standout accessory for any Jewish occasion. Crafted with high-quality materials, this Kippah provides both durability and comfort, suitable for everyday wear or special ceremonies. Its unique color palette and elegant design make it a perfect choice for those who appreciate a blend of traditional symbolism and modern style in their religious attire.
The Art of Kippah Design 🎨
Materials and Craftsmanship
The Kippah is a canvas of cultural expression, showcasing a variety of materials and craftsmanship techniques. Traditionally, Kippahs were made from basic fabrics like cotton or silk. However, as the significance of the Kippah grew, so did the diversity in its materials. Today, Kippahs are crafted from a range of fabrics, including velvet, suede, satin, and even crocheted wool, allowing for a wide variety of textures and styles.
Craftsmanship in Kippah design is as diverse as the materials used. From hand-knitted Kippahs to those elaborately embroidered or adorned with intricate patterns, the artistry involved reflects both the skill of the makers and the cultural context in which they are created. Some Kippahs are personalized with names or special dates, making them not only a religious symbol but also a keepsake or a gift.
Regional Variations and Modern Interpretations
The design of the Kippah varies significantly across different regions, mirroring the cultural and historical influences of Jewish communities worldwide. In Middle Eastern countries, the Kippahs often feature elaborate designs and vibrant colors, reflecting the local artistic styles. In contrast, European and American Jewish communities have traditionally favored more subdued designs, like plain black or white velvet.
Modern interpretations of the Kippah embrace contemporary fashion and individual expression. Today, one can find Kippahs in a spectrum of colors, with modern patterns, sports team logos, and even pop culture themes. This evolution in design not only caters to personal tastes but also signifies the adaptability of Jewish traditions to modern life.
Kippahs in Daily Life 🏠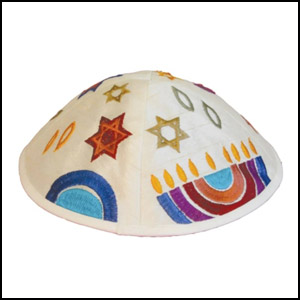 Rules and Customs Around Wearing a Kippah
The Kippah is deeply woven into the fabric of daily Jewish life, governed by a blend of religious rules and cultural customs. Traditionally, Jewish law encourages men to cover their heads as a sign of reverence to God, particularly during prayer, religious study, and meal times. In Orthodox Jewish communities, the Kippah is worn constantly, symbolizing a 24/7 commitment to Jewish faith and law.
However, customs can vary among different Jewish groups. In more liberal Jewish communities, such as Reform or Conservative, wearing a Kippah might be more closely associated with specific religious occasions, like attending synagogue or participating in religious ceremonies.
Interviews with Individuals About What Their Kippah Means to Them
David, a Lawyer from New York: "For me, wearing a Kippah is a quiet but constant reminder of my roots and beliefs. It's like carrying a piece of my heritage wherever I go."
Rachel, a College Student: "I started wearing a Kippah during my studies in Israel. It connects me to a community, a larger family that shares my values and history."
Ethan, a Graphic Designer: "My collection of Kippahs, each with a different design, reflects my journey in life and faith. It's not just a religious symbol but a part of my personal expression."
Leah, a Business Owner: "In our family, the Kippah symbolizes continuity. Passing down Kippahs through generations is like weaving a tapestry of our family's story and Jewish identity."
Trendsetting Designs and Fashion Statements 👒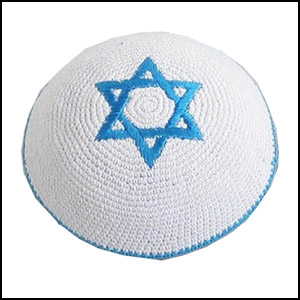 In recent years, the Kippah has transcended its traditional role, becoming a statement piece in the world of fashion. Designers and wearers alike are embracing bolder, more creative designs that reflect personal style and contemporary trends. From neon colors to eco-friendly materials, and even high-tech fabrics, the modern Kippah is as much a fashion accessory as it is a symbol of faith.
Limited edition designs, collaborations with artists, and custom-made Kippahs are becoming increasingly popular, allowing wearers to showcase their individuality.
Young Jewish individuals are at the forefront of redefining the Kippah in today's world. They are breaking away from the standard black and white Kippahs, opting instead for designs that reflect their hobbies, interests, and social affiliations. From sports-themed Kippahs to those featuring pop culture icons, the choices are vast and varied.
Guide to Selecting the Right Kippah for Different Occasions 👑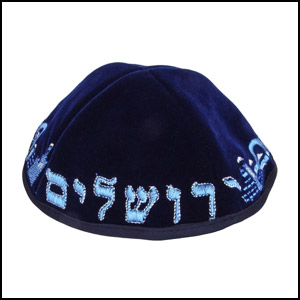 Selecting a Kippah can be a personal journey, reflecting both the occasion and the individual's style. Here's a quick guide:
🟨 For Daily Wear: Comfort is key. Lightweight materials like cotton or knit are popular for their ease of wear. Choose a color and pattern that complements your daily attire.
🟨 For Shabbat and Holidays: Opt for something special. Silk, velvet, or satin Kippahs, possibly with subtle embroidery or patterns, can add a touch of elegance to these sacred occasions.
🟨 For Weddings and Bar Mitzvahs: These are opportunities to wear a more decorative or personalized Kippah. Some choose to match the color scheme of the event or opt for a custom design.
🟨 For Synagogue: Traditional and conservative designs are often preferred. A simple, solid-colored Kippah can be a respectful choice.
Care and Maintenance Tips
To ensure your Kippah retains its shape and color, follow these care tips:
🟪 Washing: Hand wash fabric Kippahs in cold water with a mild detergent. For knit or crocheted Kippahs, consider gentle spot cleaning to maintain their form.
🟪 Drying: Air dry Kippahs by laying them flat. Avoid direct sunlight for dyed or delicate fabrics to prevent fading.
🟪 Storage: Store Kippahs in a cool, dry place. For multiple Kippahs, a dedicated box or drawer helps keep them in shape and dust-free.
🟪 Repairing: Small tears or loose threads in fabric Kippahs can often be easily mended with a simple needle and thread.
Remember, the Kippah you choose is more than just a head covering; it's a reflection of your identity and beliefs. Take the time to select one that feels right for you and the occasion, treating it with care and respect.
Conclusion: More Than Just a Cap 🕊️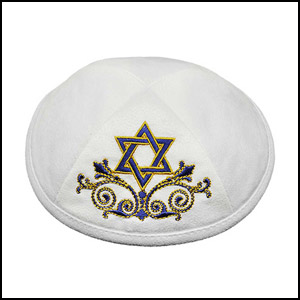 The journey through the world of Kippahs reveals that this humble head covering is far more than a simple cap. It embodies the deep-rooted significance of Jewish tradition, spirituality, and identity. From its origins in ancient times to its modern adaptations, the Kippah has been a constant symbol of reverence, humility, and community in Jewish life.
The Kippah stands as a silent yet powerful witness to the endurance of Jewish culture through centuries of change. It is a marker of faith, a piece of heritage passed down through generations, and a personal statement of religious and cultural identity. In every thread and pattern, it carries stories of tradition, innovation, and the diverse expressions of Jewish life.
Looking ahead, the Kippah is poised to continue playing a crucial role in the future of Jewish identity. As it evolves with new designs and materials, it adapts to the changing landscape of Jewish expression in a modern world. For young Jews especially, the Kippah is a bridge between their ancestral heritage and their contemporary experiences.
Appendix: Further Reading, Resources and References 📖
For those interested in exploring the world of the Kippah and Jewish culture more deeply, the following resources are invaluable:
Books:
"A History of the Jewish Kippah" by David Shulman: An insightful book delving into the historical and cultural significance of the Kippah.
"The Fabric of Our Lives: The Story of Jewish Headgear" by Rachel Sarfati: This book explores the evolution of Jewish headgear, including the Kippah, across different cultures and eras.
Websites:
MyJewishLearning.com: A comprehensive online resource for Jewish traditions, customs, and history.
Chabad.org: Offers a wide range of articles on Jewish practices, including the significance of the Kippah.
Online Forums and Communities:
Jewish community forums and discussion groups on platforms like Reddit or Facebook often have threads and discussions about traditional attire, including Kippahs.
Glossary of Terms
Kippah (Yarmulke): A small cap worn by Jews as a sign of respect and recognition of a higher power.
Talmud: Central text in Judaism, containing rabbinic discussions pertaining to Jewish law, ethics, philosophy, customs, and history.
Shabbat: The Jewish Sabbath, a day of rest and religious observance from Friday evening to Saturday evening.
Bar Mitzvah: A Jewish coming of age ritual for boys.
Synagogue: A Jewish house of worship and community center.
This collection of resources and terms provides a foundation for anyone looking to deepen their understanding of the Kippah and its place within Jewish tradition and culture.